---
EXPERT CONSULTANT AND INTERIM MANAGER/DIRECTOR
Ruben Mauricio Bakker
A highly skilled and experienced Expert Consultant and Interim Manager / Director for 3D Transformation, Fit, (On-Demand) Manufacturing, Automation / IT, and Patternmaking / Technical Design, with a proven track record, a breadth of experience as well as extensive knowledge of the industry, with deep roots in traditional Bespoke Tailoring and IT. Ruben Bakker is also an Educator and Public Speaker.Previously Hired and Trusted by Companies, Global Brands, and Organizations such as: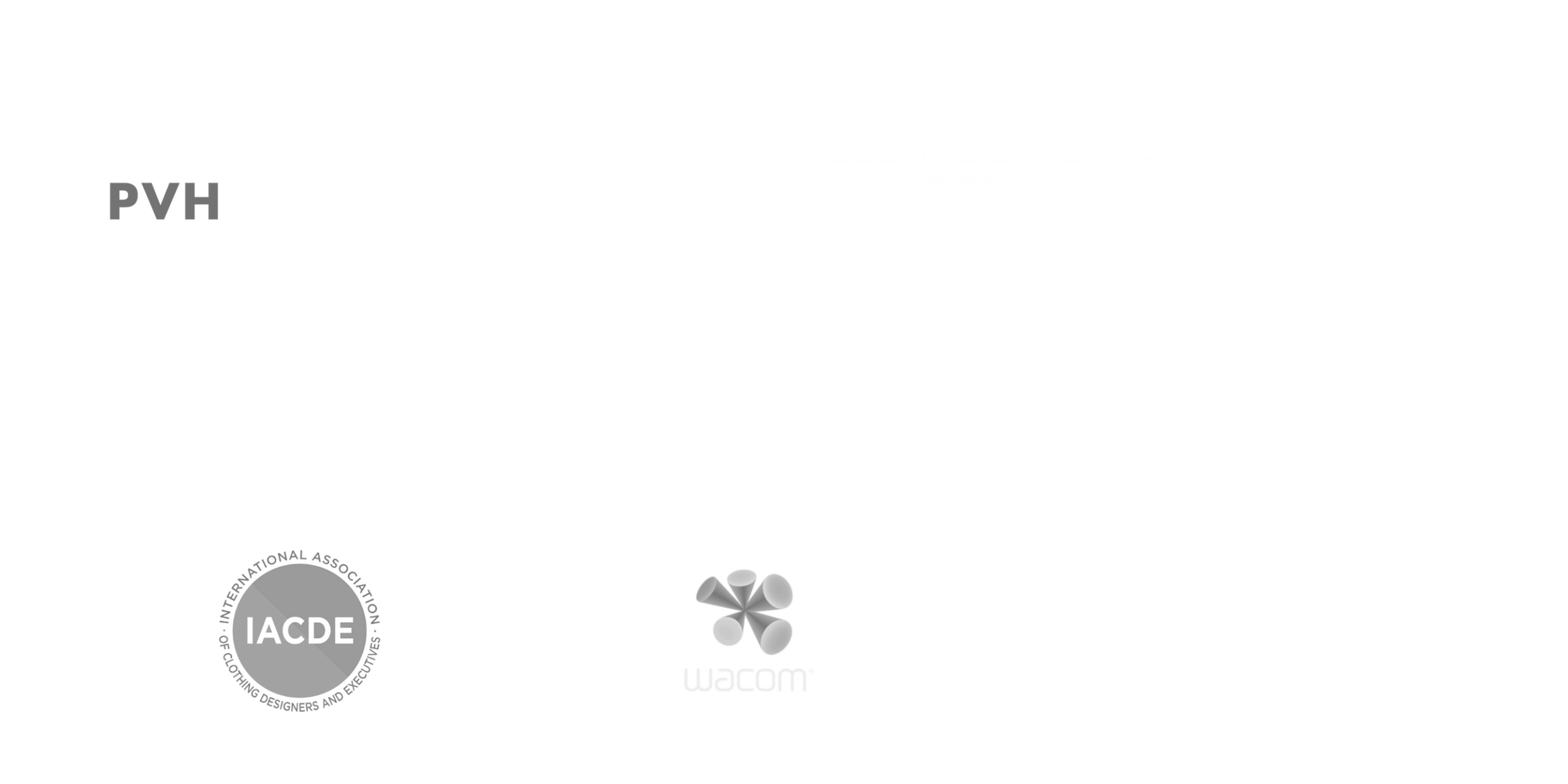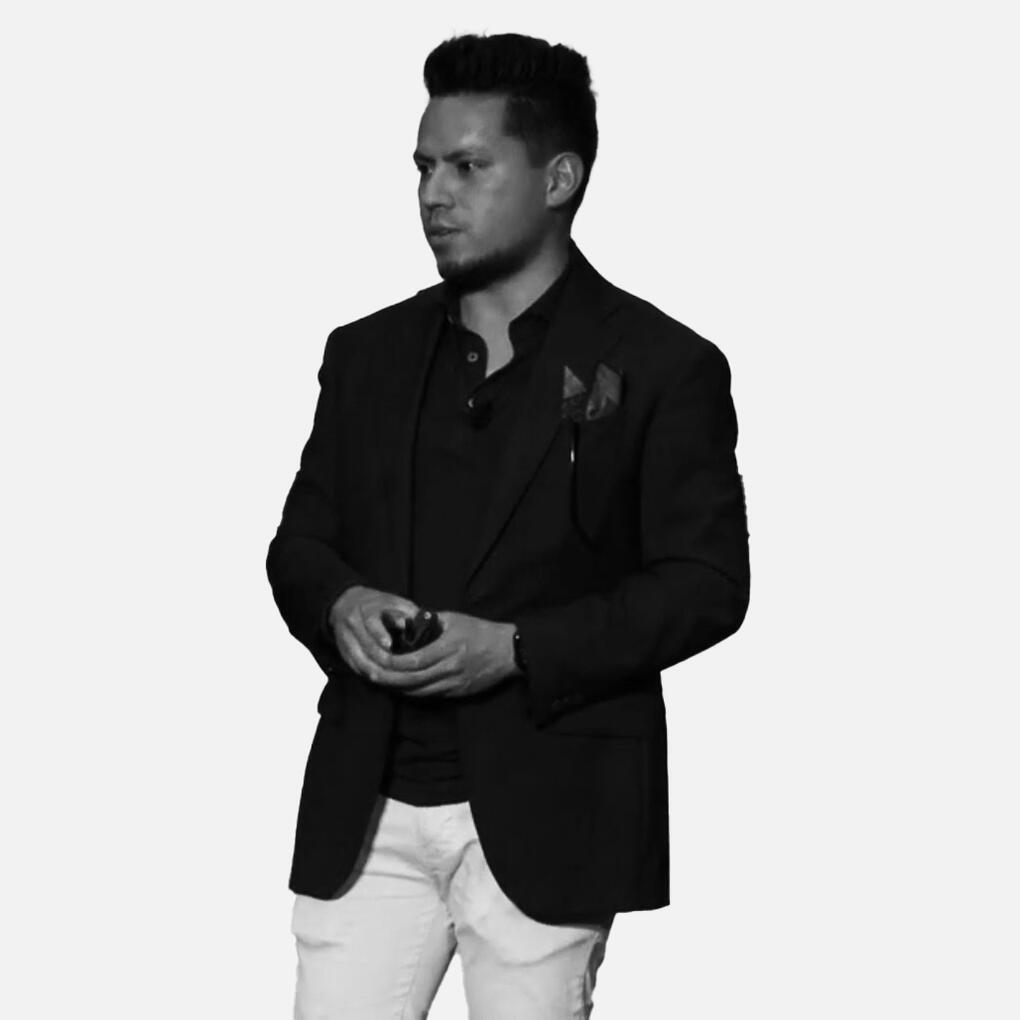 A unique blend of skills
Biography
Experienced in both Menswear and Womenswear, and companies, brands, and organizations small, medium, and large alike, Ruben Bakker is the go-to Expert Consultant and/or Interim Manager / Director for those seeking an edge in the age of rapid digitalization of the Fashion Industry. Ruben is an expert in all three major 3D CAD software packages - Browzwear, CLO3D, and Style3D, making him an invaluable asset in a multitude of capacities.Spanning a 15 year career, Ruben Bakker is a widely respected, sought-after, outspoken, and well known voice in the Fashion Industry. He combines a unique background of patternmaking and garment manufacturing with programming and IT - as well as extensive managerial experience. That combination makes him the go-to professional for your organization to transform your business in the age of digitalization and automation, for brands looking to reduce returns by optimizing their fit, and for brands looking towards on-demand manufacturing.Ruben is also the current Chairman of the Board at IACDE (International Association of Clothing Designers and Executives).
Excellence is in the details
Vision
" Somehow, both of my passions, Fashion and Technology, have come together over the recent years. Before deciding to become a Bespoke Tailor in 2008, programming and 3D is what I studied for. In the years after, I kept doing it in my spare time. 15 years later they are heavily intertwined with my daily work and the industry I work in.Apart from being very lucky in that regard, it gives me a massive edge - those 2 seemingly dissimilar backgrounds allow me to be "in the know" at all levels - not just being adept at using or even developing the software, but most importantly, how to utilize each and every one of its massive advantages across all levels of an organization.What is an organization and its employees doing physically now, that can be done better digitally? What tools are available? What tools should an organization choose to invest in? How does an organization implement those tools into a pipeline? What should that pipeline even look like? What skills do each of the employees and stakeholders have to have? How is efficiency achieved through digitalization instead of making things more complicated?These questions are the talk-of-the-day in various Fashion Companies around the world right now. My vision is that Fashion Companies should digitize, automate, and employ technology as far and as wide as possible. They should, in effect, become technology companies that happen to make physical products. This is a monumental task, and it is important that at all levels, employees should be shown how they can do what they do so excellently now, even better with the right digital tools. Empowerment is key.Meanwhile, regulatory insitutions globally are eyeing the Fashion Industry as one of the most polluting industries in the world, and soon, on-demand manufacturing will have to become a reality. With hands-on experience in this field too, I can put in place the right decisions to move towards a better future - less returns, less waste, better fit, happier customer.Solving this is only achieved by employing a leader that knows how something was done physically or manually and is now done better digitally or in an automated way at each level of the organization, sparing no detail. It's the little details that are vital, as little things make big things happen.As such, I'd be happy to help your organization through these exciting times through excellent Change Management. Feel free to book a Free Consultation with me through this link! "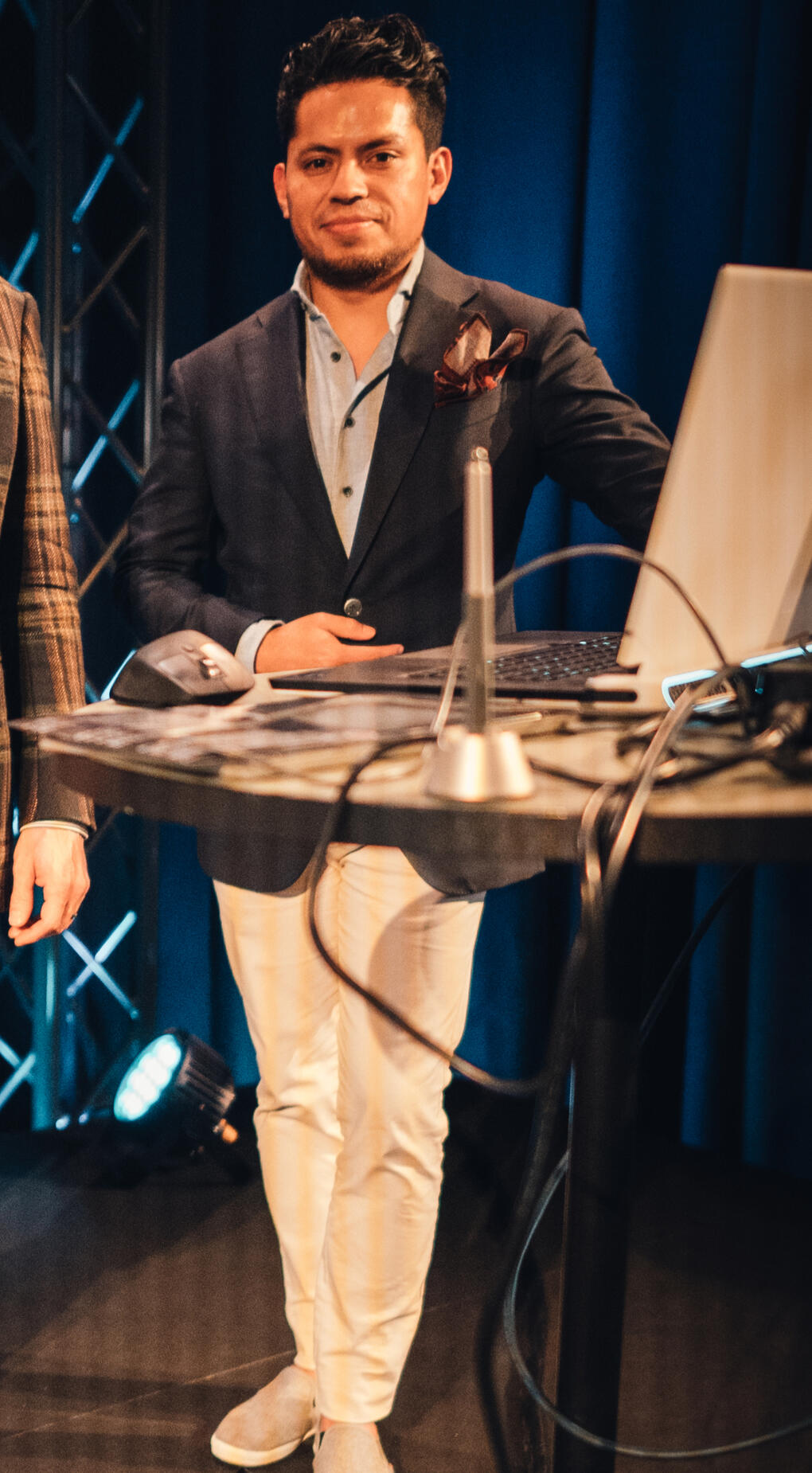 the future is now
Digital Transformation
Below is a selection of the services offered, all of which can be performed at different levels, from Manager to Director to VP. If you need a service not listed here, don't hesitate to get in touch or book a free consultation.
3D Visualization

AI Implementation

Automation

DAM (Digital Asset Management)

Digital Selling

Employee Training and Education

Fabric Digitization

Hardware Evaluation

Lecturing/Teaching

Project Management (Scrum)

Public Speaking

Rendering Pipelines

Software Evaluation

Stakeholder Management

Transformation Strategy
Thimbles and software
Fit, Patternmaking and Technical Design
Ruben Bakker started out as a Bespoke Tailor, and has made patterns for and fitted clothing on hundreds of different bodies throughout his career - both male and female bodies. A strong emphasis has always been on outlier bodies, such as bodybuilders, the disabled, and plus sized bodies. Using a mix of both physical and digital tools, Ruben Bakker can help your brand develop new styles and blocks, grade them, or fix current fit issues across current brand offering, reducing returns.He can also actively advise on fitting strategies, fit tools, as well as sourcing, manufacturing, and on-demand manufacturing solutions.An example process is that of a buyer wanting to develop a certain style - the first question always is - who is your customer? This is vital in achieving the right fit. They would then send a sample garment, sketch, or tech pack over and an initial pattern is made and fitted in 3D, after which revisions can be made. Meanwhile, the vendor/manufacturer requirements are established and the pattern developed so that it can go straight into manufacturing. Usually, only one physical sample has to be produced, and can then go straight to grading and mass production.His home workshop is fully outfitted with Alvanon Alvaform Physical Fit Forms, a powerful Workstation to do the 3D Simulations on, a Workbench, Pressing tools and a Sewing Machine. Ruben works in Gerber Accumark and all Major 3D CAD Software.
Technology expert and startup veteran
On Demand Manufacturing, Automation, 3D Scanning, and IT
Ruben Bakker is the Founder, Majority Shareholder, and Technical Director of Tailored Technologies B.V. - a Netherlands based startup that was founded in 2017 with a clear mission; to develop a set of algorithms and accompanying technology stack that is able to generate factory-ready patterns based on a customer's raw body measurements from a 3D Body Scan. Its aim was to make an end to polluting and inefficient practices of the Ready-to-Wear industry, and instead move towards a more sustainable fashion-on-demand model. No more overproduction, and a perfect fit for every-body. You can read more about Tailored Technologies here.The proprietary technology stack that was developed under the lead of Ruben Bakker, consisted of an Ordering/ERP Platform, an Automation Platform, and Patternmaking Software. Leading a team of developers, Ruben Bakker managed to create a well connected, integrated and automated pipeline that was eventually implemented into three different factories around the world. The algorithms that generated the patterns were also developed by Ruben Bakker and were able to successfully fit a large range of body types up to an accuracy of 98%.In short, Tailored Technologies was doing on-demand manufacturing before anyone else did. Ruben Bakker's experience in building the IT infrastructure required to do so, and his expertise in implementing this new technology into a factory environment may be crucial towards your own goals of on-demand manufacturing. Ruben Bakker is also one of the foremost experts in the field of 3D Body Scanning, having tested nearly every solution on the market and remaining in good contact with each of those vendors.
IT Infrastructure Development

Algorithms and Automation

Factory Implementation

3D Body Scanning Hardware and Software
Engaging, knowledgeable, outspoken
Speaking, Lecturing, Teaching
Ruben Bakker is a passionate, engaging, knowledgeable, and outspoken speaker and is happy to talk about his experience, Fashion Technology, his vision, and his outlook on the present and future of the Fashion Industry.Ruben is also an avid, enthusiastic educator. He enjoys playing to the strengths of each of his students, enabling success by empowerment.A couple of examples of prior speaking/teaching engagements:
Speaker, Host, and Co-Organizer of IACDE International Convention 2023: "Merging Bespoke Tailoring and the Digital World"

Alvanon Panel at PI Apparel Supply Chain Forum 2022: "Digital Product Creation: Fashion's Big Supply Chain Opportunity"

Guest Lecture at Akademie fur Mode und Design, a private Fashion School in Germany: "When the rules no longer work, make new ones"

Seminar at PVH Amsterdam: "Tailoring in 3D"

Seminar at PVH Amsterdam: "Fitting Plus-Size Avatars and Grading in 3D"

Seminar at Fit Retail Innovation Days in Paris: "Verifying Fit and Grading in 3D using Alvanon Sizing Sets"

Seminar at DTB Next LVL in Sigmaringen, Germany: "Fitting and Grading on the New European Plus Sizing Set"

Speaker at PI Apparel Supply Chain Forum 2023: "The Future of Fashion: On-Demand Manufacturing as a Game-Changes for Supply Chain Transformation"
EMPOWERMENT THROUGH TRAINING
Success Story: PVH
PVH Corp., parent company to illustrious fashion labels Tommy Hilfiger and Calvin Klein, required an experienced hand to guide their transformation into the digital age. Ruben Bakker took on the mantle, leading a digital revolution within one of the world's largest apparel companies.Ruben's primary mission was to build a comprehensive curriculum that could elevate PVH associates from beginners to advanced users in 3D design and simulation tools. He devised clear, concise lessons that demystified the complexities of the technology, and in just five months, over 90 PVH associates were proficiently using advanced 3D software.Beyond his training role, Ruben was instrumental in empowering various specialized teams by hosting tailored workshops focusing on product categories like Close to Body, Tailoring, and Heavyweight Knits. He also delivered two inspirational presentations in the PVH Auditorium - "The Challenge of Tailoring in 3D" and "Grading on Plus Size Sizing Standards with Alvanon Avatars".Here's what some attendees had to say:
"#1: I thought the training has been extremely well organised...Ruben is clear and concise with teaching and makes it understandable and logical. I have really enjoyed these sessions."

"#2: Loved it, pace was perfect, Ruben is great! Super helpful and now makes me think I can actually conquer 3D."

"#3: Ruben explains the process very well and is there if there are any questions...overall I found the training really good!"

"#4: Ruben explains every step in a very clear manner, easy to follow, and takes time to listen and fix any issue you might run into."

"#5: Super interesting training. Very well organized and easy to follow. A great to start to get feeling how the future in 3D will evolve."
Ruben's efforts at PVH were transformative, taking a global company from 3D beginners to competent professionals, ready to shape the future of fashion.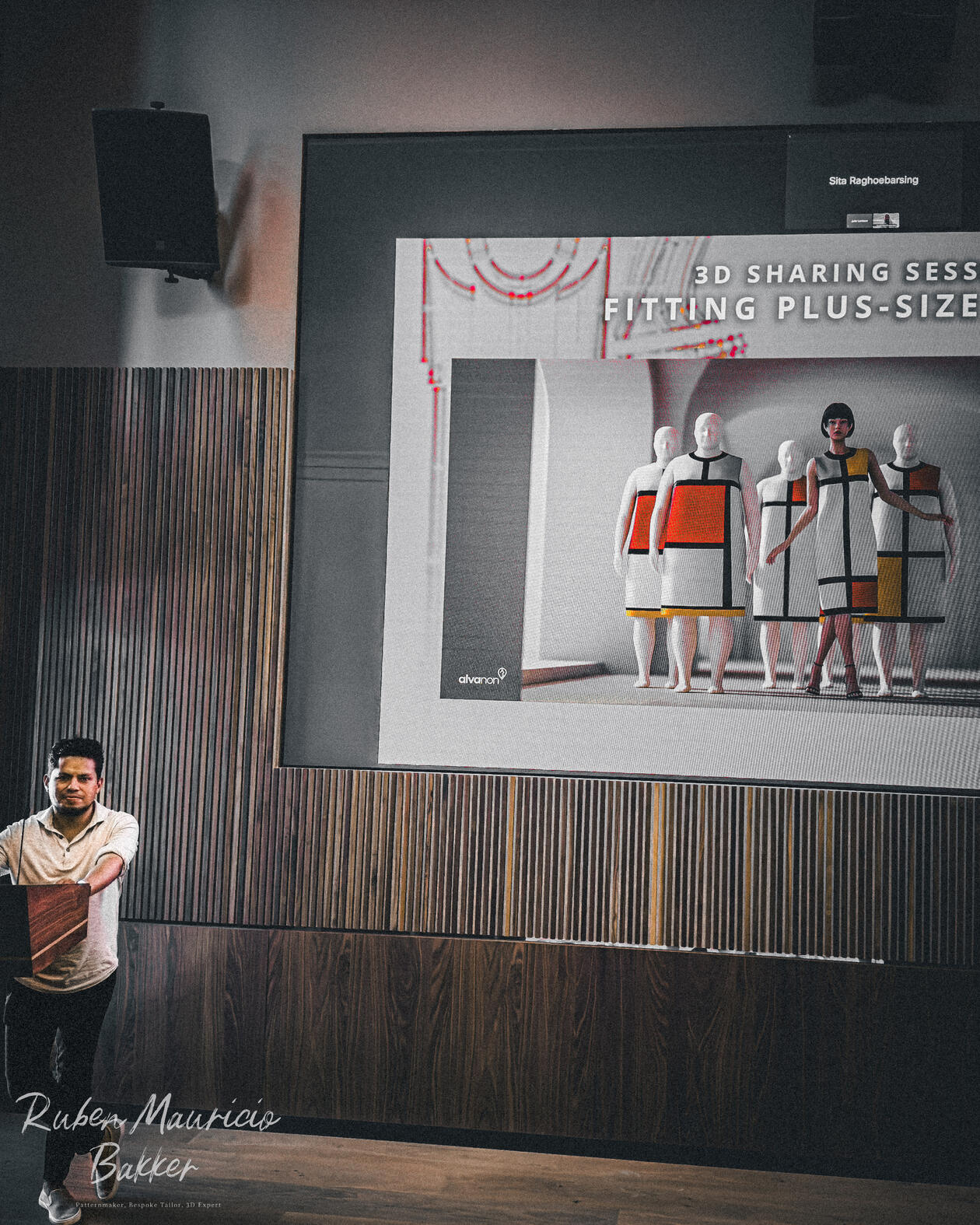 EXPERTISE IN EVERY THREAD
Success Story: The Armoury
The Armoury, a renowned Menswear Brand based in New York and Hong Kong, teamed up with Ruben Bakker to craft the perfect "Made in the USA" Oxford Cloth Button Down Shirt. Ruben's role in this successful endeavor spanned from initial technical design to final production supervision, demonstrating his comprehensive expertise in fashion technology.The efficient use of new technologies such as the Alvanon Body Platform, Browzwear, and Style3D for simulation and visualization streamlined the sampling process. This optimization resulted in just one sample being required for the buyer, demonstrating Ruben's commitment to efficiency and precision.The successful collaboration resulted in an initial production of 500 shirts, reinforcing Ruben's ability to oversee large-scale projects from conception to completion, while maintaining the highest quality standards.The successful collaboration with The Armoury exemplifies Ruben's extensive technical expertise, commitment to quality, and capability to manage large-scale productions with finesse.More info from about the Isaac Shirt from The Armoury here.
TECHNICAL LEADERSHIP, GAME-CHANGING SOLUTIONS
Success Story: Tailored Technologies
Tailored Technologies, a groundbreaking startup co-founded by Ruben Bakker, set its sights on reshaping the Ready-to-Wear industry. From its inception in 2016, the firm pursued a clear mission: develop a proprietary algorithm and software stack capable of transforming raw 3D body scan data into factory-ready patterns.As the company's Technical Director, Ruben was integral to all aspects of development and management. He oversaw a team of four developers, guiding the creation of several proprietary systems, including patternmaking software, ordering, marker making, and cutting data automation systems. These innovations addressed complex issues in the apparel production process, pushing the boundaries of what was possible in 3D apparel design and material digitization.The company's pioneering efforts extended beyond software creation. Under Ruben's direction, Tailored Technologies successfully implemented its proprietary technology stack into three different factories, two in Portugal and one in Mexico, allowing for completely automated production. This achievement demonstrated the real-world efficacy and scalability of their technological solutions, paving the way for a more sustainable and efficient future in the fashion industry.Guiding the startup's growth and transformation required adept leadership skills. Ruben led the organization on the principles of Scrum and an Agile Mindset, ensuring a dynamic, responsive approach to the ever-changing landscape of fashion technology.With €150K in pre-seed funding, Tailored Technologies was an ambitious venture. Under Ruben's technical directorship, it became a reality, affirming his expertise in merging technology and fashion for revolutionary results.Tailored Technologies represents Ruben Bakker's vision and execution in pioneering sustainable, technology-driven solutions for the Ready-to-Wear industry.
INDUSTRY AMBASSADOR AND CONSULTANT
Success Story: Alvanon
Ruben Bakker's association with Alvanon has been a successful journey that has seen him wear many hats. From speaker and consultant to influencer and educator, Ruben has played a pivotal role in the company's efforts to shape the future of the fashion industry.Ruben made a significant impact as a 3D Body Scanning Consultant, where he was responsible for setting up two TG3DS body scanners in new locations, including the prestigious Akademie für Mode und Design in Düsseldorf. His technical expertise was also put to good use at the Alvanon Booth during Texprocess 2022, where he managed the build, maintenance, troubleshooting, and scanning of subjects.His proficiency in the field extended to the educational sphere as well, with Ruben serving as a guest lecturer at the Akademie für Mode und Design. His captivating lecture titled "If the rules no longer work, make new ones" engaged and enlightened an audience of 30 students and 4 teachers.As a speaker, Ruben contributed to various prestigious industry events, such as the PI Apparel Supply Chain Forum 2022 in Amsterdam and the Fit Retail Innovation Days in Paris. He also offered his consulting expertise and 3D Body Scanning services at the PI Apparel Milan 2023 and Pitti e-P Summit.A highlight of Ruben's work with Alvanon was his involvement in the IACDE 3D Summit Event. Here, he showcased Alvanon's progressive work, speaking about grading and working with Alvaform Sizing Standards across various 3D CAD software.Moreover, Ruben also served as an ambassador for Alvanon on social media, using his influence to further the reach and impact of the brand.His extensive work with Alvanon underscores Ruben's mastery of 3D Body Scanning, his ability to educate and inspire, and his skill in leveraging his influence to drive industry advancements.
LEADERSHIP AND INNOVATION
Success Story: IACDE
Ruben Bakker's role in the International Association of Clothing Designers and Executives (IACDE) is a testament to his leadership skills, forward-thinking, and his deep commitment to the fashion industry. His various roles in the association highlight his ability to drive innovation, inspire growth, and foster global cooperation.His expertise in fashion technology came to the fore at the IACDE International Convention where he delivered a live lecture on simulating and visualizing tailored clothing using various digital tools. This experience underscores Ruben's mastery of the latest industry technology and his ability to communicate complex topics in an accessible way.Ruben's vision for technological innovation was also evident in his role as Tech Lead for the IACDE. He advocated for and implemented a new website and community platform, further enhancing the association's global reach and networking capabilities.His role as Chairman of the Board and International Coordinator sees him acting as a crucial link between the seven local chapters of the IACDE. His focus is on fostering continued growth, increasing member engagement, enhancing sponsor satisfaction, and facilitating global cooperation.Finally, Ruben's involvement with the IACDE 3D Summit, an online learning event, saw the attendance of the event increase by 500% through the adoption of various tools to increase registration and engagement.Ruben's work with the IACDE is a shining example of his leadership, dedication to the advancement of the fashion industry, and his commitment to fostering global collaboration and community growth.
Contact
Free Consultation
Please feel free to book a free consultation with Ruben here.
Curriculum Vitae
Ruben Bakker's Curriculum Vitae can be viewed on LinkedIn, which is always kept up to date.
Socials and Legal Notice
Copyright © 2023 Ruben Mauricio Bakker - All Rights Reserved. No text, images, or other content may be reproduced without prior written consent.Ruben Mauricio Bakker is registered under the Dutch Chamber of Commerce with no. 69248710.